Immediately several open lectures have passed this week.
Not a trace is left of misunderstanding
Educational week for cadets began with lecture of assistant professor of the Department of Criminalistics Candidate of Juridical Sciences, lieutenant colonel of militia Igor Pashuta. During the open lecture on the topic "Forensic study of traces (trasology)", the general provisions and scientific foundations of trasology were examined, the concepts of material and ideal footprints and many other issues were revealed. Particular attention was paid to the importance of science in the professional activities of future detectives.
During the lecture different methods and techniques (story, problem lectures, lecture-visualization, case studies) were used. Examples of practical activities, questions to the audience, demonstration and analysis of video clips allowed to keep the attention of cadets until the end of the lecture.
The lecture was aroused interest among cadets and representatives of lectures. At the end of the lecture, the cadets asked the series of questions for which they received detailed answers.
"He is certainly guilty. But he is not guilty... "
It was these words from the famous Soviet film "Beware of the car" (dir. Eldar Ryazanov, 1966), the video clip of which was shown at the lecture by Doctor of Law, Assistant Professor Anatoliy Savienok, Head of the Department of Criminal Law and Criminology. The attention of the cadets was presented questions of qualification of certain types of crimes on the grounds and elements of the crime and its basic rules. The lecturer stressed that thas topic is of increased importance in view of the values of the objects of criminal law protection under consideration, the prevalence of crimes in practice.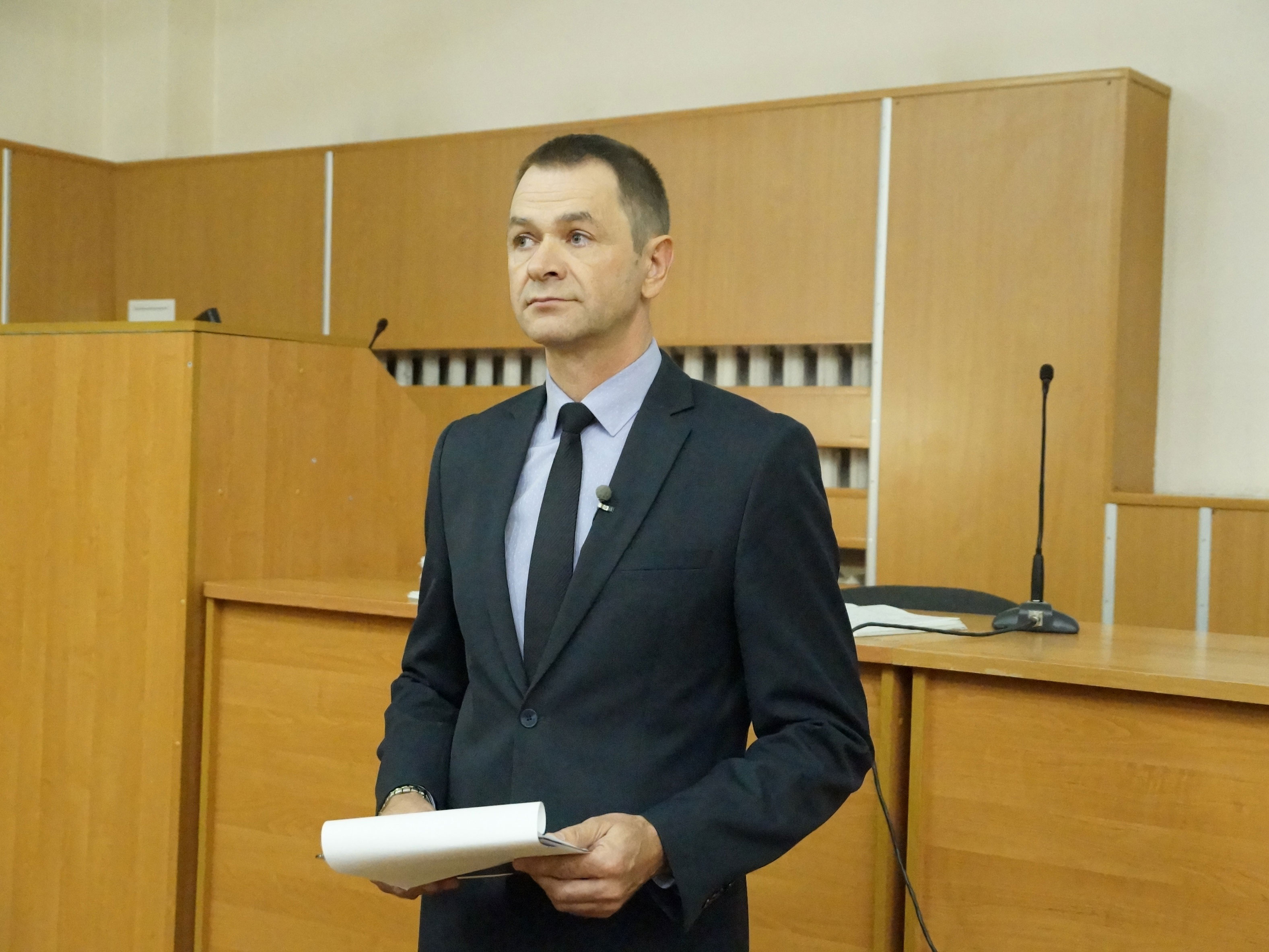 In the process of lecture he with cadets analyzed examples from investigative practice, in which the correct qualifications and acts caused doubts. In this case, the lecturer skillfully used the means of visibility, which allowed cadets learn the material.
The implementation of interdisciplinary communication was ensured by the binary nature of the lecture. Associate Professor of the Department of Civil and Labor Law, Candidate of Juridical Sciences Alexander Voitul helped Anatoliy Savienok with this.
At the end of the lecture, deserved applause was heard. Allowing personal experience of the lecturer in the position of the security officer of the Central District Department of Internal Affairs of Minsk, including the high level of training.
Department of methodological support of the educational process.
Photo by Anastasia Voinova, GIOS Academy of the Ministry of Internal Affairs